Meet our Community Research Assistant~ Sushmita
TWIRI, the Trans Women HIV Research Initiative, is made up of a diverse team of researchers, clinicians, community workers, and advocates working to promote the health and social welfare of trans women living with and affected by HIV. TWIRI, takes a community-driven, interdisciplinary approach. They work from an intersectional feminist anti-oppressive framework and we use principles of community-based research (CBR). One of the foundations of success in community based research is partnering with all the clinics in Toronto that support Trans Healthcare and hiring an amazing Community Research Assistant~ Sushmita Patel. Sush was introduced to our clinic by Yasmeen Persad, one of the founding members of TWIRI. Pictures here with Dr Mona Loutfy, the Pricipal Investigator and leader of this research program.
Sush came to Canada from Fiji Island in 2002 for a better life. She started in Canada as a caterer and performing drag- but in 2008 persued her transition openly surrounding by her loving friends and family.
She has her own catering company and works as a chef at The 519; she is inspired by her mum's Gujarat Indian dishes. Sush is a Bollywood Queen and she makes most of her outfits- she loves colours to mix and match to make any outfit beautiful.

We were introduced to Sush in the early spring of 2022 as we wanted to hire a Community Research Assistant for the DDI Pilot Study. Participants need to spend 8 hours at the clinic getting blood draws throughout the day to measure their estrogen and antiretroviral medication levels. She was tasked with helping participants feel safe and comfortable. This was her first time participating in community based research and although she had no idea what to expect, she wanted to support Trans Women participating in this clinical trial.
Sush turns the time with participants into an opportunity to connect as people, as women, and as part of this trans experience. Spending a day in a clinic can be difficult and although we have a nice space, the time flies by with her. Sush balances the need to be back in the lab every couple of hours with shopping, eating, laughing, and at least one walk out of the clinic.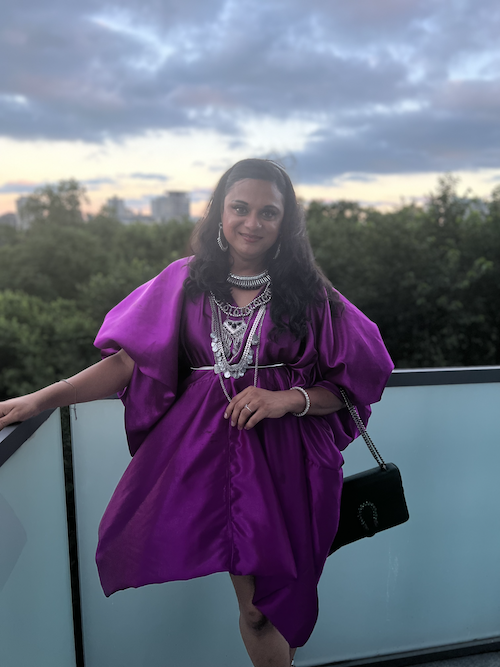 We have welcomed Sush into our Team and hope when you decide to participate in the DDI main study, you are extra inspired knowing she will be there to support you. Thank you Sush!
You can order catering from sush or hire her for bollywood performance or just say hi through her instagram Sush Patel.